$17.99
ISBN: 9781681196343
Availability: Usually Ships from Wholesaler in 1-5 Days
Published: Bloomsbury Children's Books - February 12th, 2019
For fans of Penguin and Pinecone, this adorable new duo will warm your heart and tickle your funny bone.

Meet Croc! He is the strongest and fastest crocodile around.

Meet Turtle! He agrees that Croc is the strongest and fastest.

But what happens when Elephant lifts that heavy rock with ease? And when Cheetah speeds on by?
---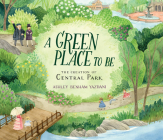 $17.99
ISBN: 9780763696955
Availability: On Our Shelves Now (Subject to Availability)
Published: Candlewick - March 12th, 2019
How did Central Park become a vibrant gem in the heart of New York City? Follow the visionaries behind the plan as it springs to green life.

---
$14.95
ISBN: 9780816679805
Availability: On Our Shelves Now (Subject to Availability)
Published: Univ Of Minnesota Press - May 21st, 2014
Author Phyllis Root and illustrator Betsy Bowen last explored the vast, boggy peatlands of northern Minnesota in their book Big Belching Bog. Now, in Plant a Pocket of Prairie, Root and Bowen take young readers on a trip to another of Minnesota's important ecosystems: the prairie.

---

$16.99

ISBN: 9780399579530

Availability: Usually Ships from Wholesaler in 1-5 Days

Published: Ten Speed Press - September 26th, 2017

A richly illustrated guide to the myths, histories, and science of the celestial bodies of our solar system, with stories and information about constellations, planets, comets, the northern lights, and more.


---

$17.99

ISBN: 9780062424334

Availability: On Our Shelves Now (Subject to Availability)

Published: Balzer + Bray - January 23rd, 2018

From the acclaimed author/artist of Beyond the Pond and Rulers of the Playground comes a breathtaking new book with a powerful message about the environment, perfect for fans of Peter Brown's The Curious Garden and Kadir Nelson's If You Plant a Seed.

Each day, the big trucks go to work. They scoop and hoist and push.

---

$18.95

ISBN: 9781681340081

Availability: On Our Shelves Now (Subject to Availability)

Published: Minnesota Historical Society Press - October 1st, 2019

I am
a powerful
waterfall.
I listen.
I pay attention.
I have a long memory.
You might find it hard to believe,
but I have moved through time.

---

$17.99

ISBN: 9780062252074

Availability: On Our Shelves Now (Subject to Availability)

Published: Greenwillow Books - February 3rd, 2015

A blue crayon mistakenly labeled as "red" suffers an identity crisis in this picture book by the New York Times–bestselling creator of My Heart Is Like a Zoo and It's an Orange Aardvark! Funny, insightful, and colorful, Red: A Crayon's Story, by Michael Hall, is about being true to your inner self and following your own path despite obstacles that may c

---

$7.99

ISBN: 9780140508192

Availability: On Our Shelves Now (Subject to Availability)

Published: Puffin Books - May 15th, 1990

Meet Nancy Carlson's peppy pig—a character who is full of good feelings about herself. Her story will leave little ones feeling good about themselves, too!


---

$11.99

ISBN: 9781416908166

Availability: On Our Shelves Now (Subject to Availability)

Published: Simon & Schuster Books for Young Readers - November 1st, 2005

"Why mess around with Catholicism when you can have your own customized religion?"
Fed up with his parents' boring old religion, agnostic-going-on-atheist Jason Bock invents a new god -- the town's water tower. He recruits an unlikely group of worshippers: his snail-farming best friend, Shin, cute-as-a-button (whatever that means) Magda Price, and the violent and unpredictable Henry Stagg.

---

$17.99

ISBN: 9780735231603

Availability: Usually Ships from Wholesaler in 1-5 Days

Published: Dutton Books for Young Readers - April 16th, 2019

Funny, poignant, and deeply moving, The Line Tender is a story of nature's enduring mystery and a girl determined to find meaning and connection within it.


---

$9.95

ISBN: 9781616207465

Availability: On Our Shelves Now (Subject to Availability)

Published: Algonquin Young Readers - April 30th, 2019

Winner of the 2017 Newbery Medal
The New York Times Bestseller

An Entertainment Weekly Best Middle Grade Book of 2016
A New York Public Library Best Book of 2016
A Chicago Public Library Best Book of 2016
An Amazon Top 20 Best Book of 2016
A Publishers Weekly Best Book of 2016
A School Library Journal Best Boo

---

$7.99

ISBN: 9781536207996

Availability: On Our Shelves Now (Subject to Availability)

Published: Candlewick - March 24th, 2020

"Louisiana, with her quick, insightful takes on everyone she meets, grabbed readers' hearts in Raymie Nightingale, and in this book she isn't about to let go." — The New York Times Book Review


---

$7.99

ISBN: 9780802738028

Availability: On Our Shelves Now (Subject to Availability)

Published: Bloomsbury USA Childrens - November 4th, 2014

When Cow gets her hooves on the farmer's car, she takes it for a wild ride through the country. Moooo! But a bump in the road brings this joy ride to a troublesome end. Moo-moo. . . Has Cow learned her lesson about living life in the fast lane? Moo?


---

$16.99

ISBN: 9780062275097

Availability: Usually Ships from Wholesaler in 1-5 Days

Published: Walden Pond Press - February 12th, 2019

Three starred reviews

A Publishers Weekly Best Children's Book of 2019


Anne Ursu, author of the National Book Award nominee The Real Boy, returns with a story of the power of fantasy, the limits of love, and the struggles inherent in growing up.

---

$16.95

ISBN: 9781517905019

Availability: On Our Shelves Now (Subject to Availability)

Published: Univ Of Minnesota Press - November 1st, 2019

An encounter with a pheasant (which may or may not be sleeping) takes a surprising turn in this sweetly serious and funny story of a Native American boy and his grandma

 
"Pull over, Grandma! Hurry!" Johnny says. Grandma does, and Johnny runs to show her what he spotted near the ditch: a sleeping pheasant. What Grandma sees is a small feathery hump.

---

$17.99

ISBN: 9781541538368

Availability: On Our Shelves Now (Subject to Availability)

Published: Carolrhoda Books (R) - October 1st, 2019

Filled with wonder and sorrow and happiness.
--Alison McGhee, #1 New York Times bestselling author of Someday
A heartfelt story of a young girl seeking beauty and connection in a busy world.

---

$8.99

ISBN: 9780142427583

Availability: On Our Shelves Now (Subject to Availability)

Published: Puffin Books - March 6th, 2014

When crisis hits, a young girl becomes the only one left to take care of her family

Pride, Nightingale and Baby are the Stars. Orphaned and living with their grandfather, Old Finn, in rural Minnesota, the children, like their grandfather, are wary of outsiders. They believe, as Old Finn taught them, in self-reliance.


---

$28.99

ISBN: 9780062671189

Availability: Usually Ships from Wholesaler in 1-5 Days

Published: Harper - March 3rd, 2020

NEW YORK TIMES BESTSELLER

WASHINGTON POST BEST BOOK OF 2020

AMAZON BEST BOOK OF 2020

NPR BEST BOOK OF 2020

CBS SUNDAY MORNING BEST BOOK OF THE YEAR

KIRKUS REVIEWS BEST FICTION OF 2020

CHICAGO PUBLIC LIBRARY'S BEST OF THE BEST

---

$17.99

ISBN: 9780062463319

Availability: On Our Shelves Now (Subject to Availability)

Published: HarperCollins - January 14th, 2020

A beautiful journey into African American history: Discover the true meaning of being brave in this tender and whimsical picture book from Daniel Bernstrom (One Day in the Eucalyptus, Eucalyptus Tree; Gator, Gator, Gator) and Shane Evans (Chocolate Me!) that follows a grandfather and grandson traveling through time and discovering their own African American history.

---

$17.99

ISBN: 9780062320636

Availability: Usually Ships from Wholesaler in 1-5 Days

Published: HarperCollins - June 25th, 2019

"Plenty of visual comedy [and] the central dump truck is cute to boot." —BCCB

"A story that is sometimes hilarious and always absurd. A treat for vehicle-loving kids." —Booklist

---

$9.99

ISBN: 9780593123300

Availability: On Our Shelves Now (Subject to Availability)

Published: Random House Books for Young Readers - May 5th, 2020

The first in a hilarious young graphic novel series about Pizza and Taco. Two best friends, lots of toppings...but only one of them can be the BEST, right? Fans of Narwhal and Jelly will eat this book up...and be hungry for more!


---

$17.99

ISBN: 9781542041232

Availability: Usually Ships from Wholesaler in 1-5 Days

Published: Two Lions - July 16th, 2019

Betty can't wait to be a first-grade witch. But on the first day of school, her classmates start calling her "Itty Bitty" because she's small and still uses her kinder-broom. Betty doesn't like the nickname--or how it makes her feel itty-bitty inside. So she comes up with a BIG idea to prove herself: winning the Halloween Dash.

---

$16.99

ISBN: 9781419708978

Availability: On Our Shelves Now (Subject to Availability)

Published: Amulet Books - February 25th, 2020

Newbery Honor recipient Margi Preus tells the incredible true story of a group of French teenagers who helped save refugees in WWII

Based on the true story of the French villagers in WWII who saved thousands of Jews, this novel tells how a group of young teenagers stood up for what is right.

---

$17.99

ISBN: 9780822576310

Availability: On Our Shelves Now (Subject to Availability)

Published: Carolrhoda Books (R) - April 1st, 2008

Inspiration for the Netflix series Chico Bon Bon

---

$18.99

ISBN: 9781442478213

Availability: On Our Shelves Now (Subject to Availability)

Published: Beach Lane Books - September 5th, 2017

A little boy who loves to find shapes in nature grows up to be one of America's greatest architects in this inspiring biography of Frank Lloyd Wright.

When Frank Lloyd Wright was a baby, his mother dreamed that he would become a great architect. She gave him blocks to play with and he learned that shapes are made up of many other shapes.

---

$17.99

ISBN: 9780525554233

Availability: On Our Shelves Now (Subject to Availability)

Published: Dial Books - July 2nd, 2019

From the creator of The Rabbit Listened comes a gentle story about the difficulty of change . . . and the wonder that new beginnings can bring.


---

$17.99

ISBN: 9781534415171

Availability: Usually Ships from Wholesaler in 1-5 Days

Published: Simon & Schuster/Paula Wiseman Books - February 25th, 2020

"An amusing friendship story that's just right for reading aloud." —Publishers Weekly
"Everyone's indeed a winner here." —Kirkus Reviews
"A sure bet for read-aloud fun." —Booklist

Toy Story meets Cars in this sweet and relatable story that explores universal themes

---