Saturday, March 23, 2PM
Meet Ashley Benham Yazdani, author and illustrator of A Green Place to Be: The Creation of Central Park! She'll tell us the backstory behind Central Park in New York City, including the ousting of an entire African American neighborhood and the architects who pioneered a nationwide park movement.
Preorder your book here! If you would like your book personally inscribed and signed by Ashley Benham Yazdani, just indicate to whom you would like it inscribed in the customer notes when you order, or call the bookstore at 612-920-5005. If you are unable to attend the event, you will be able to pick up your book anytime after March 23rd.
---
Date:
Saturday, 23 March 2019 - 2:00pm
Books: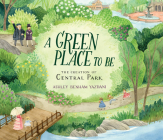 $17.99
ISBN: 9780763696955
Availability: On Our Shelves Now (Subject to Availability)
Published: Candlewick - March 12th, 2019
How did Central Park become a vibrant gem in the heart of New York City? Follow the visionaries behind the plan as it springs to green life.

In 1858, New York City was growing so fast that new roads and tall buildings threatened to swallow up the remaining open space. The people needed a green place to be -- a park with ponds to row on and paths for wandering through trees and over bridges. When a citywide contest solicited plans for creating a park out of barren swampland, Calvert Vaux and Frederick Law Olmsted put their heads together to create the winning design, and the hard work of making their plans a reality began. By winter, the lake opened for skating. By the next summer, the waterside woodland known as the Ramble opened for all to enjoy. Meanwhile, sculptors, stone masons, and master gardeners joined in to construct thirty-four unique bridges, along with fountains, pagodas, and band shells, making New York's Central Park a green gift to everyone. Included in the end matter are bios of Vaux and Olmsted, a bibliography, and engaging factual snippets.
---