$17.99
ISBN: 9780735229358
Availability: On Our Shelves Now (Subject to Availability)
Published: Dial Books - February 20th, 2018
A moving and universal picture book about empathy and kindness, sure to soothe heartaches big and small.

---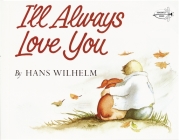 $7.99
ISBN: 9780517572658
Availability: Usually Ships from Wholesaler in 1-5 Days
Published: Dragonfly Books - December 12th, 1988
Illus. in full color. "In this gentle, moving story, Elfie, a dachshund, and her special boy progress happily through life together. One morning Elfie does not wake up. The family grieves and buries her. The watercolor illustrations, tender and warm in color and mood, suit the simple text perfectly."--School Library Journal.
---

$18.99
ISBN: 9780590417013
Availability: Usually Ships from Wholesaler in 1-5 Days
Published: Blue Sky Press - August 1st, 1995
A comforting and playful exploration of a beloved dog's journey after a happy life on Earth.

---

$18.99

ISBN: 9780590100540

Availability: Usually Ships from Wholesaler in 1-5 Days

Published: Blue Sky Press - August 1st, 1997

A joyous celebration of a cat's journey after a happy life on Earth by Newbery Medalist Cynthia Rylant.
"The way to Cat Heaven is a field of sweet grass, where crickets and butterflies play!"

---

$7.99

ISBN: 9781438001883

Availability: On Our Shelves Now (Subject to Availability)

Published: B.E.S. Publishing - October 1st, 2012

This title in B.E.S. A First Look At series encourages kids of preschool through early school age to understand and overcome problems that might trouble them in social and family relationships.

---

$17.99

ISBN: 9780062671271

Availability: On Our Shelves Now (Subject to Availability)

Published: Greenwillow Books - August 14th, 2018

A Caldecott Honor Book

An ALA Notable Book

A breathtakingly beautiful and luminescent book that is pitch-perfect for anyone of any age who has experienced any type of loss or disappointment, from New York Times–bestselling picture book creator Brian Lies.

---

$7.99

ISBN: 9780689712036

Availability: Usually Ships from Wholesaler in 1-5 Days

Published: Atheneum Books for Young Readers - September 30th, 1987

My cat Barney died this Friday. I was very sad. My mother said we could have a funeral for him, and I should think of ten good things about Barney so I could tell them...
But the small boy who loved Barney can only think of nine. Later, while talking with his father, he discovers the tenth -- and begins to understand.

---

$17.99

ISBN: 9780316404976

Availability: On Our Shelves Now (Subject to Availability)

Published: Little, Brown Books for Young Readers - November 3rd, 2015

From bestselling author Todd Parr, a poignant and reassuring story about loss.


---

$16.95

ISBN: 9781454932116

Availability: On Our Shelves Now (Subject to Availability)

Published: Sterling Children's Books - September 10th, 2019

With gentle humor and quirkiness, this sympathetic book demonstrates how to say goodbye to a beloved pet and give it a proper sendoff.

" The End of Something Wonderful is] really good. It's funny and sardonic and it gets to be touching at the end." --Betsy Bird, School Library Journal

---