Tuesday, September 1, 7PM
Get in your pajamas and join singer, rapper, and writer Dessa for a very special virtual PJ Story Time! Dessa will read two books, The Very Hungry Caterpillar by Eric Carle and The Day You Begin by Jacqueline Woodsen and illustrated by Rafael Lopéz.
This story time will be posted on our IGTV, Facebook, and on our YouTube channel, and will be viewable for 24 hours.
Date:
Tuesday, 1 September 2020 - 7:00pm
to
Wednesday, 2 September 2020 - 8:00pm
Books:

$18.99
ISBN: 9780399246531
Availability: On Our Shelves Now (Subject to Availability)
Published: Nancy Paulsen Books - August 28th, 2018

National Book Award winner Jacqueline Woodson and two-time Pura Belpré Illustrator Award winner Rafael López have teamed up to create a poignant, yet heartening book about finding courage to connect, even when you feel scared and alone.

There will be times when you walk into a room
and no one there is quite like you.

There are many reasons to feel different. Maybe it's how you look or talk, or where you're from; maybe it's what you eat, or something just as random. It's not easy to take those first steps into a place where nobody really knows you yet, but somehow you do it.

Jacqueline Woodson's lyrical text and Rafael López's dazzling art reminds us that we all feel like outsiders sometimes-and how brave it is that we go forth anyway. And that sometimes, when we reach out and begin to share our stories, others will be happy to meet us halfway.

(This book is also available in Spanish, as El Día En Que Descubres Quién Eres!)
---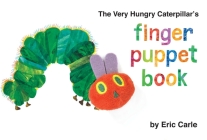 $12.99
ISBN: 9780448455976
Availability: Usually Ships from Wholesaler in 1-5 Days
Published: World of Eric Carle - March 3rd, 2011
Eric Carle's most beloved character, The Very Hungry Caterpillar, comes alive in this counting book that features a caterpillar finger puppet that peeks his head through each page. Read and count along as he munches his way through 1 delicious apple, 2 crisp pears, and 3 tart plums to become a beautiful butterfly at the end!

Also available as a HARDCOVER and regular BOARD BOOK.
---

$17.00
ISBN: 9781524742317
Availability: Usually Ships from Wholesaler in 1-5 Days
Published: Dutton - August 27th, 2019
"I love the way Dessa puts words together. In her songs, in her poetry, in her short stories, and now in this beautiful and candid memoir. Wanna be an artist? Get this book."
--Lin-Manuel Miranda

"Dessa writes beautifully about a wide range of topics, including science, music, and the pain that comes with being in love; it's a surprising and generous memoir by a singular voice."
--NPR, Best Books of 2018

Dessa defies category--she is an intellectual with an international rap career and an inhaler in her backpack; a creative writer fascinated by philosophy and behavioral science; and a funny, charismatic performer dogged by blue moods and heartache. She's ferocious on stage and endearingly neurotic in the tour van. Her stunning literary debut memoir stitches together poignant insights on love, science, and language--a demonstration of just how far the mind can travel while the body is on a six-hour ride to the next gig.

In "The Fool That Bets Against Me," Dessa writes to Geico to request a commercial insurance policy for the broken heart that's helped her write so many sad songs. "A Ringing in the Ears" tells the story of her father building a wooden airplane in their backyard garage. In "'Congratulations,'" she describes the challenge of recording a song for The Hamilton Mixtape in a Minneapolis basement, straining for a high note and hoping for a break. "Call Off Your Ghost" chronicles the fascinating project she undertook with a team of neuroscientists to try to clinically excise romantic feelings for an old flame. Her writing is infused with scientific research, dry wit, a philosophical perspective, and an abiding tenderness for the people she tours with and the people she leaves behind to be on the road.

My Own Devices is an uncompromising and candid account of a life in motion, in music, and in love. Dessa is as compelling on the page as she is onstage, making My Own Devices the debut of a unique and deft literary voice.
---