Hora de cuentos bilingüe virtual: el cuarto viernes de cada mes
Próxima hora de cuentos bilingüe: viernes 24 de juli
¡Únete a nosotrxs el cuarto viernes de cada mes para una hora de cuentos bilingüe virtual en español e inglés con la vendedora de libros Leigh! Cantaremos en español y leeremos nuestros libros ilustrados bilingües/en español favoritos.
Nuestras horas de cuentos bilingües virtuales se subirán el cuarto viernes de cada mes a nuestras cuentas de IGTV, Facebook y YouTube y estarán disponibles hasta la tarde del sábado siguiente. Todos los libros leídos en nuestras horas de cuentos virtuales se pueden encontrar AQUÍ.
---
Virtual Bilingual Story Time: Fourth Fridays
Next Bilingual Story Time: Friday, July 24
Join us on the fourth Friday of every month for a virtual Spanish/English bilingual story time with bookseller Leigh! We will sing songs in Spanish and read our favorite Spanish/bilingual picture books.
Virtual Bilingual Story Times will be posted on the fourth Friday of every month on our IGTV, Facebook, and on our YouTube channel, and will be viewable through the following Saturday afternoon. All of the books read during our virtual story times can be found HERE.
---
Date:
Friday, 28 August 2020 - 12:00pm
to
Saturday, 29 August 2020 - 2:00pm
Friday, 24 July 2020 - 12:00pm
to
Saturday, 25 July 2020 - 2:00pm
Friday, 25 September 2020 - 12:00pm
to
Saturday, 26 September 2020 - 2:00pm
Books: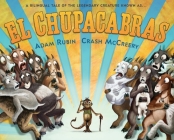 $17.99
ISBN: 9780399539299
Availability: On Our Shelves Now (Subject to Availability)
Published: Dial Books - March 27th, 2018
From the bestselling author of Dragons Love Tacos comes a whimsical re-telling of the chupacabra folktale, written in a blend of English and Spanish

A long time ago, a girl named Carla lived on a goat farm with her father, Hector. One night, a goat disappeared from the farm and turned up flat as a pancake. Only one creature could do that--El Chupacabras, the goatsucker! Legend has it that El Chupacabras is a fearsome beast, but you can't believe everything you hear...and sometimes the truth is even more interesting.

Told in equal parts English and Spanish by bestselling author Adam Rubin, and cinematically illustrated by acclaimed Hollywood creature creator Crash McCreery, this lighthearted take on a modern legend is not told in the traditional bilingual style.

Each sentence is half-Spanish/half-English followed by a repetition of the same line translated the other way around. This mirroring technique allows the languages to intermingle equally. A fun and unique way to introduce either Spanish or English to new readers.

A note from author Adam Rubin:
"I decided to tell this story in an unusual way to explore the beauty of harmony. It's easy to dismiss the unfamiliar, but compassion takes a little more effort. With so many people trumpeting divisiveness right now, it's more important than ever to teach kids that there is more than one way to understand the world."
---