Date:
Sunday, 29 March 2020 - 12:30pm
Sunday, March 29, 12:30PM CANCELLED
This event has been CANCELLED.
Join Nate Christopherson and Tara Sweeney, creators of the new book A to Zåäö: Playing with History at the American Swedish Institute for a story time and introduction to the Swedish alphabet! Nate and Tara will read, take questions, and sign books, and we'll even have some Swedish treats.
---
Books: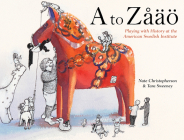 $24.95

ISBN: 9781517907884
Availability: On Our Shelves Now (Subject to Availability)
Published: Univ Of Minnesota Press - December 3rd, 2019
A is for "Akta dig! Look out!" And when you do, you'll see the nyckelharpa, or keyed fiddle, that Axel's father made—which followed Axel from Sweden to America. You'll also find Axel, a snappy dresser, with his umbrella and bowler hat. He's one of the inquisitive characters who will accompany you on these pages, guiding you through the twenty-nine letters of the Swedish alphabet. Each letter does something exciting. C is "Cirkulera! Go round and round!" And for D, "Dansa! Dance!"

This fun introduction to the Swedish alphabet, a romp from A to Z (and then Å to Ä to Ö), is also a delightful tour of the American Swedish Institute in Minneapolis, a cultural center alive with stories past and present. Artifacts from the museum's collection are charmingly rendered in watercolor and animated by whimsical pen-and-ink characters that draw readers from page to page. Tara Sweeney and Nate Christopherson, a mother and son collaborative team, create magical realism in A to Zåäö, their first picture book. Their irreverent curiosity delights and begs a timeless question—how can exploration and discovery help us grow?
---