My recipe for a Perfect Day: a hot cup of tea and a room full of books to transport me to all corners of the imagination.
Some of Rachael's favorite books are:
Again! by Emily Gravett
The Arrival by Shaun Tan
Tuesday by David Weisner
---
$19.99
ISBN: 9781442452312
Availability: Usually Ships in 1-5 Days
Published: Simon & Schuster Books for Young Readers - April 16th, 2013
A little dragon and his favorite book make for a combustible combination in this clever picture book with a surprise ending.
It's nearly Cedric the dragon's bedtime, and for Cedric, bedtime means storytime When his mother reads him his favorite book, he likes the story so much that he wants to hear it again...and again...and again
Cedric's mom understands that the best stories are ripe for repetition, and she tries very hard to be patient. But sometimes dragons will be dragons--which is why this bedtime tale ends with an incendiary surprise.
---

$21.99
ISBN: 9780439895293
Availability: On Our Shelves Now
Published: Arthur A. Levine Books - October 1st, 2007
"Tan's lovingly laid out and masterfully rendered tale about the immigrant experience is a documentary magically told." -- Art Spiegelman, author of Maus
"An absolute wonder." -- Marjane Satrapi, author of Persepolis
"A magical river of strangers and their stories " -- Craig Thompson, author of Blankets
"A shockingly imaginative graphic novel that captures the sense of adventure and wonder that surrounds a new arrival on the shores of a shining new city. Wordless, but with perfect narrative flow, Tan gives us a story filled with cityscapes worthy of Winsor McCay." -- Jeff Smith, author of Bone
"Shaun Tan's artwork creates a fantastical, hauntingly familiar atmosphere... Strange, moving, and beautiful." -- Jon J. Muth, Caldecott Medal-winning author of Zen Shorts
"Bravo." -- Brian Selznick, Caldecott Medal-winning author of The Invention of Hugo Cabret
"Magnificent." -- David Small, Caldecott Medalist
---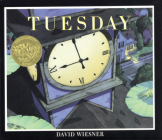 $7.99
ISBN: 9780395870822
Availability: On Our Shelves Now
Published: Clarion Books - September 27th, 2011
David Wiesner received the 1991 Caldecott Medal for Tuesday. In the years that followed, he went on to receive two more Caldecotts, and Tuesday went on to sell half a million copies in the United States and to be published in a dozen foreign countries. Now, with remarkable advances in the technology of color reproduction, the original artwork for Tuesday is being reproduced anew, for an edition even more faithful to the palette and texture of David Wiesner's watercolor paintings. The whimsical account of a Tuesday when frogs were airborne on their lily pads will continue to enchant readers of all ages.
---