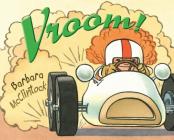 $17.99
ISBN: 9781626722170
Availability: On Our Shelves Now (Subject to Availability)
Published: Farrar, Straus and Giroux (BYR) - July 2nd, 2019
From beloved author and artist Barbara McClintock comes Vroom!, a playful picture book following a little girl's imaginative journey in a race car.

Join a little girl as she zooms—
past fields and forests,
up mountains,
over rivers,
through deserts,
home again,
---

$16.99
ISBN: 9781776571413
Availability: On Our Shelves Now (Subject to Availability)
Published: Gecko Press - August 1st, 2017
Bear has been sitting and waiting since dawn. I'm waiting for Goliath. He's my best friend. At last the bus pulls up, but no one gets out. He'll definitely show up. You'll see The robins fly south and the first snow falls. When Bear wakes from a long sleep, he hears a noise like a hand sliding slowly across paper. Goliath is coming

But Goliath's identity is a big surprise.
---

$7.99
ISBN: 9780547076713
Availability: On Our Shelves Now (Subject to Availability)
Published: Clarion Books - November 10th, 2008
Bee-bim bop (the name translates as "mix-mix rice") is a traditional Korean dish of rice topped, and then mixed, with meat and vegetables. In bouncy rhyming text, a hungry child tells about helping her mother make bee-bim bop: shopping, preparing ingredients, setting the table, and finally sitting down with her family to enjoy a favorite meal.

---

$16.99

ISBN: 9781452118949

Availability: On Our Shelves Now (Subject to Availability)

Published: Chronicle Books - August 12th, 2014

Inside the tent it's cozy, but what is going on outside? Is it dark? Is it scary? Not if you have your trusty flashlight!


---

$17.99

ISBN: 9781452110066

Availability: On Our Shelves Now (Subject to Availability)

Published: Chronicle Books - February 5th, 2013

In this innovative wordless picture book with interactive flaps, Flora and her graceful flamingo friend explore the trials and joys of friendship through an elaborate synchronized dance. With a twist, a turn, and even a flop, these unlikely friends learn at last how to dance together in perfect harmony.

---

$16.95

ISBN: 9781939547156

Availability: Usually Ships from Wholesaler in 1-5 Days

Published: Creston Books - May 12th, 2015

Written in a spare, lyrical style using fresh, evocative imagery, Village by the Sea tells the story of longing for the comforts of home. A perfect book for teaching about diverse cultures and lifestyles through rich pictures and words, moving from the wide world to the snugness of home and back out again.

---

$16.99

ISBN: 9781536201666

Availability: On Our Shelves Now (Subject to Availability)

Published: Candlewick - March 12th, 2019

Atinuke and Angela Brooksbank, creators of the award-winning Baby Goes to Market, pair up again for a bright and beautiful first book of words.

B is for Baby. B is for Brother. B is for going to see Baba!


---

$17.99

ISBN: 9780547641027

Availability: On Our Shelves Now (Subject to Availability)

Published: HMH Books for Young Readers - October 23rd, 2012

A 2013 Caldecott Honor Book

In this magical bedtime story, the lyrical narrative echoes a Runaway Bunny – like cadence: "Does everything in the world go to sleep?" the little girl asks.

---

$8.99

ISBN: 9781416938378

Availability: On Our Shelves Now (Subject to Availability)

Published: Atheneum Books for Young Readers - July 24th, 2007

I'm sitting in the time-out chair because my mother put me there. She said, "You try my patience, child! I do not like it when you're wild."

---

Email or call for price.

ISBN: 9780544302099

Availability: On Our Shelves Now (Subject to Availability)

Published: Clarion Books - September 1st, 2015

One house, two mice, three cookies . . . and the adventure begins. In gorgeously illustrated spreads and two-word phrases, this picture book takes two mice through their exciting and eventful day.

---

$17.99

ISBN: 9780399239540

Availability: Usually Ships from Wholesaler in 1-5 Days

Published: World of Eric Carle - August 26th, 2002

Slowly, slowly, slowly . . . that's how the sloth lives. He hangs upside-down from the branch of a tree, night and day, in the sun and in the rain, while the other animals of the rain forest rush past him. "Why are you so slow? Why are you so quiet? Why are you so lazy?" the others ask the sloth. And, after a long, long, long time, the sloth finally tells them!


---

$7.99

ISBN: 9780062089632

Availability: On Our Shelves Now (Subject to Availability)

Published: Greenwillow Books - September 27th, 2011

Come explore the four seasons with Old Bear

---

$15.95

ISBN: 9781592701995

Availability: On Our Shelves Now (Subject to Availability)

Published: Enchanted Lion Books - September 6th, 2016

The first book in a completely charming series by a well-known Japanese author and illustrator, Chirri & Chirra introduces two girl characters who go on wonderful adventures together through the natural world.

---

$15.95

ISBN: 9781592702251

Availability: On Our Shelves Now (Subject to Availability)

Published: Enchanted Lion Books - June 20th, 2017

In their second adventure to reach the US market, Chirri & Chirra become very small, and so are able to explore the magical world hidden away in a mound of tall grass. Filled with friendly, industrious bees and equally inventive bugs, this is a book that brings the lovely particularity of life in Japan--marked by food and nature--to young readers here.

---

$17.99

ISBN: 9780670175918

Availability: On Our Shelves Now (Subject to Availability)

Published: Viking Books for Young Readers -

Caldecott Honor Book

What happens when Sal and her mother meet a mother bear and her cub? A beloved classic is born!


---

$17.99

ISBN: 9780763656003

Availability: On Our Shelves Now (Subject to Availability)

Published: Candlewick - October 11th, 2016

Hold on to your hats for the conclusion of the celebrated hat trilogy by Caldecott Medalist Jon Klassen, who gives his deadpan finale a surprising twist.


---

$10.95

ISBN: 9781459809574

Availability: On Our Shelves Now (Subject to Availability)

Published: Orca Book Publishers - March 1st, 2016

The sun on your face. The smell of warm bannock baking in the oven. Holding the hand of someone you love. What fills your heart with happiness? This beautiful board book, with illustrations from celebrated artist Julie Flett, serves as a reminder for little ones and adults alike to reflect on and cherish the moments in life that bring us joy.

---

$15.99

ISBN: 9780811859240

Availability: On Our Shelves Now (Subject to Availability)

Published: Chronicle Books - April 16th, 2008

In this evocative wordless book, internationally acclaimed artist Suzy Lee tells the story of a little girl's day at the beach. Stunning in their simplicity, Lee's illustrations, in just two shades of watercolor, create a vibrant story full of joy and laughter.

New York Times Best Illustrated Children's Book 2008

---

$7.99

ISBN: 9781250221940

Availability: Usually Ships from Wholesaler in 1-5 Days

Published: Roaring Brook Press - December 31st, 2019

Philip C. Stead's classic picture book Bear Has a Story to Tell, a Kirkus Reviews Best Children's Book of 2012, is now a board book, ready to delight a whole new audience.

Featuring illustrations by Erin E. Stead.

It was almost winter and Bear was getting sleepy.
But first, Bear had a story to tell . . .


---

$17.99

ISBN: 9781442434141

Availability: Usually Ships from Wholesaler in 1-5 Days

Published: Beach Lane Books - September 26th, 2017

Two toddlers go on a bumpety berry hunt in this darling picture book that's perfect for preschoolers.

Wagon on gravel goes bumpety-bump.
Pebbles in the pond fall plunkey-plunk.
Toes in the grass dance thumpety-thump.
Bumpety-plunkety-thumpety-thump!

Join two sweet siblings as they explore their backyard, get deliciously creative in the kitchen, and then spen

---

$17.99

ISBN: 9780060515737

Availability: Usually Ships from Wholesaler in 1-5 Days

Published: Greenwillow Books - December 23rd, 2003

Every day, children the world over sing, shout, and celebrate Mother Goose rhymes. And now there's a new reason to cheer: Nina Crews has added her own remarkable, jazzy style of illustration to a collection of forty-one favorite verses.

---

$17.95

ISBN: 9781324005193

Availability: On Our Shelves Now (Subject to Availability)

Published: Norton Young Readers - January 7th, 2020

A young girl turns her imagination into action in this beautifully crafted and intricately designed debut picture book.

When is an old truck something more? On a small, bustling farm, a resilient and steadfast pickup works tirelessly alongside the family that lives there, and becomes a part of the dreams and ambitions of the family's young daughter.

---

$17.99

ISBN: 9781481480390

Availability: On Our Shelves Now (Subject to Availability)

Published: Simon & Schuster/Paula Wiseman Books - October 1st, 2019

A Publishers Weekly Best Book of 2019
A Today Show Best Book of the Year
A Booklist Book for Youth Editors' Choice 2019
A Boston Globe–Horn Picture Book Honor Book 2020
An NPR Favorite Book of 2019
A Charlotte Zolotow Honor Book
A Quill & Quire 2019 Book for Young People of the Year<

---

$19.95

ISBN: 9780714877211

Availability: Usually Ships from Wholesaler in 1-5 Days

Published: Phaidon Press - November 18th, 2019

View artworks from the Whitney Museum's esteemed collection in a whole new way - an interactive invitation to explore and discover

Unfold pages, lift flaps, gaze into mirrors, and interact with art like never before.

---