This piece was written by Tom Braun, co-founder of Wild Rumpus, who passed away in 2018.
Over the years, Wild Rumpus has had a sort of conversation with the book The Salamander Room by Anne Mazer. In 1992, we first used this story as a kind of blueprint for building the store. And today it continues to teach us about books and young people, and about adults who love them.
Alone, Brian goes into the woods, discovers a salamander and takes it home to his bedroom. Each page of the story that follows is driven by his off-stage mother's questions. And for each question, Brian has an answer. His answers both accommodate the new salamander and magically transform the world of his bedroom. Each illustration shows a step in a process that changes a conventional interior to an exterior: gradually walls and ceilings disappear, wildlife moves in and then takes Brian and the reader back out. And at the end, the last pages show Brian sound asleep in his bed in the woods . . . "and next to me, on the boulder with its head resting on soft moss, the salamander will sleep."
Architecture doesn't have the luxury of page-turning, but instead allows us a front-to-back spatial progression. Our store's front doors open into a fairly conventional interior with carpet, a comfortable reading chair and floorlamp. Midway, things begin to change, there's a tree-trimmer sheetrocked in the ceiling on a ladder, and the ceiling itself at this point starts to crack open to the sky. At the back, with birds above and rats beneath a garden shed, the store wants you to feel like you're outside.
Besides feeding us a design concept, there are other, deeper layers of flavor in this favorite book. It's a story about parenting. Brian's mother, instead of screaming, "Where have you been? How many times have I told you not to wander off into those woods alone? And I just cleaned your room and what's that slimy animal doing in your drawer? Brian!" Not so in this book. This mother asks simple questions, not in an interrogating, punishing way, but more as little gifts that honor and nourish her son's intelligence.
Woody Allen once confessed that he'd always felt "at two with nature." A recent radio commentator lamented that parents no longer allow their children "to play on the edges of civilization." Instead too many children today are willingly tethered to indoor technology and self-sequestered away from the natural world. This book is all but literally eliminating the distinctions between indoors and outdoors. Remember, the salamander is an amphibian—it lives and breathes by moving back and forth between water and earth. In mythology, the salamander is associated with the fourth element, fire. One explanation is that the amphibian hibernates in logs which, when brought inside to fuel a winter fire resulted in the salamander's sudden appearance among the flames.
In the beginning, Brian may bring nature—earth, air, fire and water—in the form of a salamander inside to his bedroom, but by the end, the salamander—throughout a silent chorus—has torn off the ceiling, broken down the walls and thus shows us how transient all of our shelters really are. No matter what we construct or how hard we try to wrap and protect ourselves, there's really no way to avoid the truth that we all live together and sleep together in nature's great and only salamander room.
---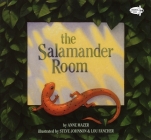 $8.99

ISBN: 9780679861874
Availability: On Our Shelves Now (Subject to Availability)
Published: Dragonfly Books - March 1st, 1994
A boy finds a salamander in the woods and imagines the many things he can do to turn his room into a perfect salamander home. Together, Anne Mazer and Steve Johnson have created a woodland paradise that any salamander would love to share with a child.
---