Sunday, October 21
It's the Son of PJ Party! Wear your Halloween costume and come for a ride, a story, and a treat. We'll stop for stories from Daniel Bernstrom, author of the new book Gator, Gator, Gator! before we return to the station. The event lasts about 45 minutes.
Tickets are now SOLD OUT. To get on the waiting list for tickets, please contact the Minnesota Streetcar Museum at info@trolleyride.org.
In the event of rain or the threat of inclement weather this event may be delayed or rescheduled. If time permits we will make every effort to contact you via email. Please check our website or the Minnesota Streetcar Museum website for updated information. If the event is rescheduled your ticket will be valid for the rescheduled date. If you cannot attend on the rescheduled date contact us within 48 hours of the cancellation for a full refund. Beyond that time we will not be able to offer a refund.
The Como-Harriet Trick 'r Trolley is presented in partnership with the Minnesota Streetcar Museum, a non-profit organization. 100% of tickets sales go to the Museum.
Tickets for the Trick 'r Trolley are sold on a first-come, first served basis. There is a maximum of 5 tickets per household, per date. Purchasing more than 5 tickets per household will result in the cancellation of your order(s) and exclusion from the event. Please bring a copy of your purchase receipt along with a photo ID to the depot 15 minutes before your boarding time.
Date:
Sunday, 21 October 2018 - 1:00pm
Books: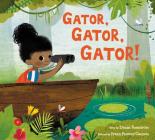 $17.99
ISBN: 9780062463302
Availability: On Our Shelves Now
Published: HarperCollins - October 9th, 2018
Do you wanna? Wanna see?

Let's go find that gator, gator, gator!

COME WITH ME!

Put on your life jacket, hop in the boat, and raise your binoculars—it's time to go on an adventure!

In Daniel Bernstrom's follow-up to the critically acclaimed One Day in the Eucalyptus, Eucalyptus Tree, a fearless little girl takes off in search of a giant gator—but she's not going into that swamp alone! No way! She wants YOU, the reader, to come along.

Off you go, peering through the lush landscapes, looking for that gator! But each time you think you see it? Oops! Just a fox. Or some ducks! Or a snake. Maybe you'll never find the gator, gator, gator . . .

With stunning illustrations from Sendak Fellow Frann Preston-Gannon, readers experience the feeling of being on a real adventure deep in the swamp. Rhyming, repeating, and exhilarating, the text is a delightful read-aloud romp that will entertain and make everyone's heart skip a beat!
---

$17.99
ISBN: 9780062354853
Availability: On Our Shelves Now
Published: HarperCollins - May 3rd, 2016
"A hungry snake. A beautiful brown boy. What more can a young reader ask for?"—National Book Award winner Jacqueline Woodson

A sneaky snake has no idea that the captives in his belly are planning their escape! In the spirit of There Was an Old Lady Who Swallowed a Fly by Simms Taback, the reader sees a cutaway of the snake's belly and can even guess how the tale ends!

Classic and contemporary, timeless and fresh, One Day in the Eucalyptus, Eucalyptus Tree has a syncopated and rhythmically delightful text perfect for reading aloud.

Daniel Bernstrom's debut picture book is nothing short of splendid, and is accompanied by magical illustrations from New York Times bestselling and 2017 Caldecott Medal-winning artist Brendan Wenzel (They All Saw a Cat).
---