Saturday, January 20, 1PM Event Cancelled
Unfortunately, Andrea Wisnewski is no longer able to visit in January. We will accept donations for South West Metro Animal Rescue throughout the month of January.
What a delight! We are longtime fans of Andrea Wisnewski's stunning lino-cut art and books. What we didn't know is that she is very close with a certain Minnesotan: Trio the Cat!
Trio, the three-legged cat, was adopted from South West Metro Animal Rescue by Andrea's brother, and he turned out to be a rambunctious, daring, funny cat with a can-do spirit that would charm your pants off.
A portion of the proceeds from this event will be donated to South West Metro Animal Rescue.
Date:
Saturday, 20 January 2018 - 1:00pm
Books: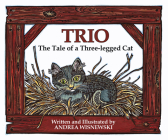 $17.95
ISBN: 9781567926088
Availability: On Our Shelves Now
Published: Davd R. Godine - November 1st, 2017
Trio is a kitten who was born with three legs. He lives his life as any other kitten would. He loves to play with the chickens, even climbing into their nesting box and finding his new favorite place. One day as he lounges in the hay, an egg hatches beneath him, and he makes a new best friend. This story is delightful and the brightly colored linocut illustrations are endearing, sure to charm adults, children, cats and chickens alike.
---